36°03' S, 136°45' E
Aptly named it is remarkable and one of natures wonders.
Formed in the post-Cambrian period these weathered rocks are composed of granite which was laid down about 500 Million years ago. The granite has similar characteristics to the granite found at Cape Willoughby and is possibly part of the same intrusion which formed at depth and has since been exposed by weathering and erosion this is called the Linois Plains. The exposed rocks are nothing but remarkable in size and shape.
The rocks rest on a large granite crest that has a very steep side on the sea side of the rocks. Extreme caution should be taken if viewing the sea from this side of the crest as large freak waves can wash an unsuspecting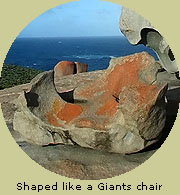 sightseer off of the rock crest into a sea that is freezing cold and the rock covered in slimy seaweed making it all but impossible to climb out of the water to safety.
The granite consists of three minerals; bluish quartz, black mica and pinkish feldspar. There are darker patches in the rock which may be the remains of the Cambrian rocks into which the granite intruded. The boulders where formed by rain penetrating the granite and decomposing the rocks into blocks. An information board at the entrance of the boardwalk to the Remarkable Rocks has more information on this. The weathering of the granite is noted in pictures from the mid 1800's and a recent photo proving that the exposed boulders are being sculpted by wind and water forming the caves, overhangs and gullies which are present in the rocks today.
A public toilet facility and walk way have been constructed in the year 2000. This facilitates disabled access to the side of the crest and the viewing platform. It is an excellent vantage point to photograph the rocks from a short distance.
Cape Du Couedic and the bays can be seen from the western platform of the crest.