36°00' S, 136°54' E
Kelly Hill Conservation Park is situated on Cape Bouguer accessible from the South Coast Road on the southern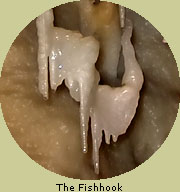 side of Kangaroo Island. This park covers 6306 hectares (15 000 acres) and is most notable for the caves that were discovered here in the 1880's.
In the 1880's a horse named "Kate Kelly" stumbled into a sinkhole and the park name commemorates this horse. Many sinkholes have since been found in the area. On examination, it was discovered that, below ground there was a beautiful network of limestone caves that contain picturesque stalactites and stalagmites displays. The main cave is now easily accessed after a short walk up the hill from the picnic area, going past the original vertical hole that the horse fell into.
These limestone caves contain the fossil remains of many animals including some prehistoric that had the same fate as the horse. Fossils of animals now unknown on Kangaroo Island include:
Kangaroo Island Dwarf Emu

Spotted-tailed Quoll

Brush-tailed Phascogale

Tasmanian Devil
Also this cave contains the skeletons of animals still found here:
Kangaroo Island Western Grey Kangaroo

Common Brush Tailed Possum

and Tammar Wallabies
Visitors to this Conservation Park can take guided tours of the main cave. The cave system is the most popular of the Park attractions.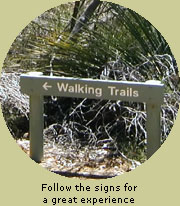 The picnic area is complemented by a small souvenir shop and tables and barbeques are provided. Ample parking bays are also made available close by.
This area is dominated by mallee and coastal scrub, which contains Kangaroo Island Western Grey Kangaroos, Common Brushtail Possums, Short-nosed Echidna, Rosenberg's Goanna and numerous type of birds, including colourful parrots.
Walking trails meander throughout the park leaving from where the car-park is located and leading to the magnificent Kelly Hill Caves. Care always should be taken in mallee bush forests as snakes may be encountered.