35°35' S, 137°29' E
Emu Bay is a fast growing town on the hill above the shores of Emu Bay. The settlement consists of an increasing group of new and beautiful houses and a caravan park with kiosk, which is open in Summer and in other holiday times.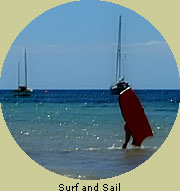 It is a quiet family holiday getaway on the North Coast of the Island. Scenically splendid - Penguins come ashore and can be heard in the low coastal scrub bush near the beach.
At the North-eastern end of the beach fossils can be seen in the rocks. It is possible to drive the length of the beach at low tide and this enables easy access to view the fossils.
The locals boast that the fishing from the jetty is the best in Australia and it offers fairly safe anchorage to pleasure craft and yachts, although some have been washed up on to the rocks and care should be taken to observe wind and weather conditions before choosing to anchor here.