35°48' S, 137°16' E
Parndana is the most recently built town not only on Kangaroo Island, but in the whole of South Australia.
Parndana which means 'Low Scrub Place' was designed to be a central point for the 'Soldier Settlers' after World War II. New settlers arrived and went on to farming properties and built the area into a thriving community.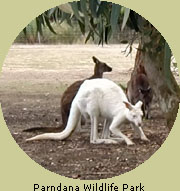 With the influx of post WWII settlers the population of Kangaroo Island exploded by over 1,000 residents. These people started in very rough huts, then built homes - bought machinery and cleared the previously uncleared land. The lifestyle was tough, but in a true Aussie tradition lives were shaped here and the farmers succeeded to reap rewards for their hard labour.
The climate on the plateau that Parndana sits on is cooler and wetter than at the Eastern end of Kangaroo Island. In this environment sheep, cattle farming and dairying was a choice of many 'Soldier Settler' farmers.
To honour the efforts of the men, women and children that carved out lives here, a Returned Servicemen's Museum has been established in the township of Parndana.
An Easter Fair is held in Parndana every Easter Saturday and Sunday.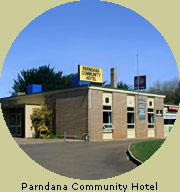 This is a showcase of pottery, crafts, floral arrangements and local artists paintings and designs. There is an excellent barbeque or Asian style lunch for the visitor to purchase. Native Fruit Jams (marmalades), locally produced wines and sheep dairy cheese tastings are also available. The displays of sheep shearing, go-cart racing and line dancing, is a fun experience in a truly country atmosphere.
A number of Sporting Clubs exist in the town and there is a Bowling Green that is enjoyed by many locals.
The town is located centrally, and has high class Bed & Breakfast and farm stay accommodations located in and near the town.