35°37' S, 137°12' E
Stokes Bay is a small settlement of holiday houses on the hillside leading to the bay. Located on the North coast it is a popular location for swimming and surfing.
Nearby is a private fauna sanctuary. It is accessed by driving through Lathami Conservation Park along the North Coast Road.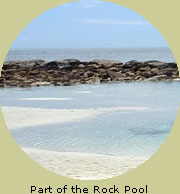 Many people visiting Stokes Bay are disappointed because it is necessary to leave their vehicle and walk through the natural tunnel, to reach the beautiful beach.
Once through the tunnel there is a shallow Rock Pool suited for children, and a long sandy beach.
This is not visible until one has walked through the tunnel.
The nearby Lathami Conservation Park is home to the Glossy Black Cockatoo, and is a very rugged area.
The nearby fauna park is privately owned and open to visitors year round. Here all the animals of Kangaroo Island can be seen at close quarters. Feedings and talks are given by the owner. This 'up close' encounter is a delightful experience.