The road runs along the North Coast of Kangaroo Island and is in parts an iron-bauxite road. Care should be taken on all roads of this type as they can get slippery. This road provides access to a number of parks, beaches and attractions.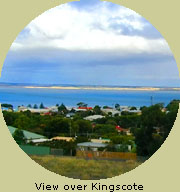 Starting at the Emu Bay turn off near Kingscote, while travelling on the Playford Highway, be aware that the road is shared by animals and keep speeds down to allow time to stop if one of them should cross your path.
After reaching Emu Bay, and spending time at the magnificent beach, you will travel about 9 kms (5.6 miles) and find yourself against the coast again at Smith Bay.
Veering away from the coastline again, 7 kms (4.4 miles) will bring you within sight of Mt McDonnell. Another 17 kms (10.6 miles) and you are travelling through Lathami Conservation Park, one Island home of the endangered Glossy Black Cockatoo.
3 kms (1.8 miles) further and you are at Stokes Bay. Here you can visit a hidden beach, which can only be accessed through a natural rock tunnel.
The North Coast Road then meanders for 10 kms (6.25 miles) crossing an access road to the right that runs to King George Beach.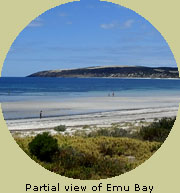 Drive another 5 kms (3.1 miles) and you are at Snelling Beach. A further 8 kms (5 miles) takes you into Western River Cove.
Leaving Western River Cove a 16 kms (10 miles) trip will take you to Gosse and back to the Playford Highway. Turning right onto the highway takes you to Cape Borda and some stunning scenery along the way as you traverse the North-eastern edge of the Flinders Chase National Park and the Ravine Des Casoars Wilderness Protection Area.
Playford Highway (West of Gosse)
Once on the highway there are some stops that are scenically spectacular. 10 kms (6.25 miles) west of Gosse is a turnoff to the right, which takes you along Colmans Road to the Western River Wilderness Protection Area. You will find a walking trail called 'The Billygoat Trail' which leads to the spectacular Billygoat Falls (flowing only after rain).
Coming back onto the Playford Highway and turning right takes you to Jump Off Road after 10 kms (6.25 miles).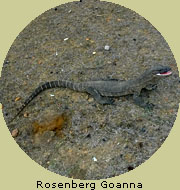 This Road is about 7 kms (4.4 miles) long and at the end of this road is the Cape Torrens Wilderness Protection Area. Here you will find the tallest cliff faces in South Australia.
Re-joining the highway and 15 kms (9.4 miles) further down the road is the Lighthouse Keepers Cemetery, Harvey's Return and Scott Cove.
Another 1 km (0.62 miles) takes you to the Cape Borda Lighthouse, where accommodation and guided tours are available.
Camping grounds and Caravan parks can be found along the North Coast Road, as well as Bed & Breakfast, Motel, and Cottage/Farm stay accommodation.