35°58' S, 137°10' E
Harriet Township, at the mouth of the Harriet River, is a burgeoning settlement. The views across the bay are quite exquisite and the beach sands are extraordinarily white.
The Vivonne Bay Wildlife Reserve -a private park with 40 kms (25 miles) of walking trails-, is a popular destination for school groups eager to learn about the fauna and flora of the Island.
Vivonne Bay is quite a peaceful Bay, and it was thought that the Japanese would find it an easy place to land forces on the Island during WWII. To counter this, the jetty was blown up in the mid section and stayed this way for many years after the war. Although, it seems quite ludicrous today, to expect an invasion from this point, few of us have experienced the terror of war. Those that have know, that all reasonable precautions are taken to protect land and life.
Nowadays it is the main anchorage and refuelling point for the Cray-fishing fleet of the south coasts. There is good bream fishing in the Harriet River, which flows into Vivonne Bay. It is a safe place to swim and early in the year there is the 'Henley on the Harriet' race.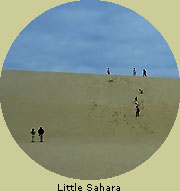 A large number of innovative and humorous homemade, almost seaworthy vessels, race on the river for fun and prizes.
Located nearby is a General Store. Petrol and alcoholic beverages can be purchased there.
Fishing is good from the jetty and it is a short drive on the South Coast Road to other attractions like Seal Bay Conservation Park, Kelly Hill Conservation Park and Flinders Chase National Park.
There is also an area of limestone sand dunes called the "Little Sahara". These dunes have blown inland from the coast and are very white and open for climbing all days.
Harriet Township offers friendly people, a rugged landscape dotted with rustic houses and glorious sweeping views over the Southern Ocean.